| Daily Fees (All fees include cart) | ***Prices do not include 8.25% sales tax*** |
| --- | --- |
| Weekdays (Monday – Thursdays) | Open – 12:59 pm |
| Rack Rate | $45 peak season / $40 off season |
| Senior (55 YOA and Over) | $39 peak season / $35 off season |
| Guest of a Member | $30 year long |
| Junior (17 YOA and Under) | $10 (walking) |
| 9 Hole | $25 year long |
| Daily Fees (All fees include cart) | ***Prices do not include 8.25% sales tax*** |
| --- | --- |
| Weekends (Friday – Sunday & Holidays) | Open – 12:59 pm |
| Rack Rate | $55 peak season / $45 off season |
| Senior (55 YOA and Over) | $49 peak season / $40 off season |
| Guest of a Member | $40 year long |
| Junior (17 YOA and Under) | $15 (walking) |
| 9 Hole | $30 year long |
| Daily Fees (All fees include cart) | ***Prices do not include 8.25% sales tax*** |
| --- | --- |
| TWILIGHT (Monday – Thursdays) | 1:00 – 3:59 pm |
| Rack Rate | $35 peak season / $30 off season |
| Senior (55 YOA and Over) | $35 peak season / $30 off season |
| Guest of a Member | $30 year long |
| Junior (17 YOA and Under) | $10 (walking) |
| 9 Hole | $25 year long |
| SUPER TWILIGHT | After 4:00 pm |
| Rack Rate | $30 peak season only |
| Senior (55 YOA and Over) | $30 peak season only |
| Guest of a Member | $30 peak season only |
| Junior (17 YOA and Under) | $10 (walking) |
| 9 Hole | $25 year long |
| Daily Fees (All fees include cart) | ***Prices do not include 8.25% sales tax*** |
| --- | --- |
| TWILIGHT (Monday – Thursdays) | 1:00 – 3:59 pm |
| Rack Rate | $45 peak season / $35 off season |
| Senior (55 YOA and Over) | $45 peak season / $35 off season |
| Guest of a Member | $40 peak season / $35 off season |
| Junior (17 YOA and Under) | $15 (walking) |
| 9 Hole | $30 year long |
| SUPER TWILIGHT | After 4:00 pm |
| Rack Rate | $35 peak season only |
| Senior (55 YOA and Over) | $35 peak season only |
| Guest of a Member | $35 peak season only |
| Junior (17 YOA and Under) | $15 (walking) |
USGA Approved Handicap $30/year
In season March  –  October
Out of season November – February
All rates are subject to change without notice.
Course is CLOSED on Thanksgiving Day and Christmas Day
Course is CLOSED every Tuesday morning for course maintenance
CART RULES
Operators of golf carts are required to have a valid drivers license.  This rule includes those who have private carts as well.  NO EXCEPTIONS.   SugarTree is not liable for injury or damage to private property.  Operators of carts are liable for damage to private property and SugarTree carts.  All cart operators are required to check in at the Pro-Shop prior to play.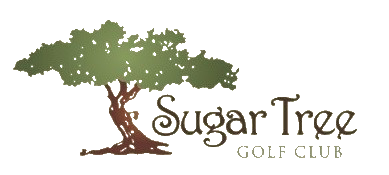 Location
251 SugarTree Drive
Lipan, TX 76462